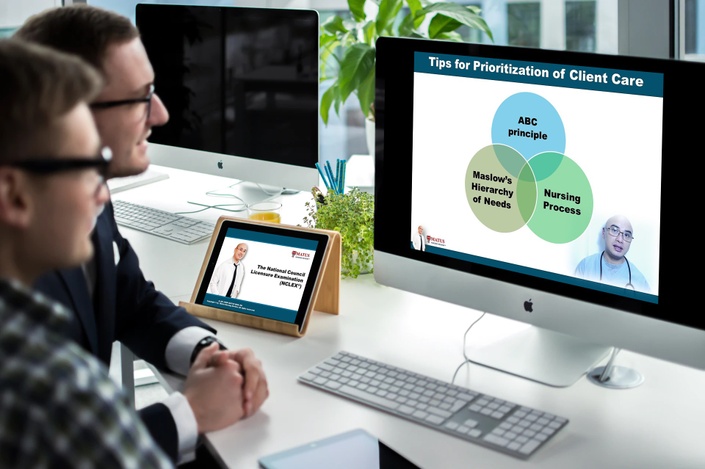 10-DAY LIVE COMPREHENSIVE NCLEX REVIEW WEBINAR
An Interactive NCLEX Review to Master Nursing Core Content

October 15 - December 17, 2022
Every Saturday
8:00 AM - 4:30 PM Pacific Time

11:00 AM - 7:30 PM Eastern Time

11:00 PM - 7:30 AM Philippine Time
Early Registration Discount before October 1, 2022: 5% OFF

Use code EARLY-5-PERCENT-OFF at check-out
Please register early so we can mail your workbook
Classes may be cancelled if minimum number of students is not met

Class size is limited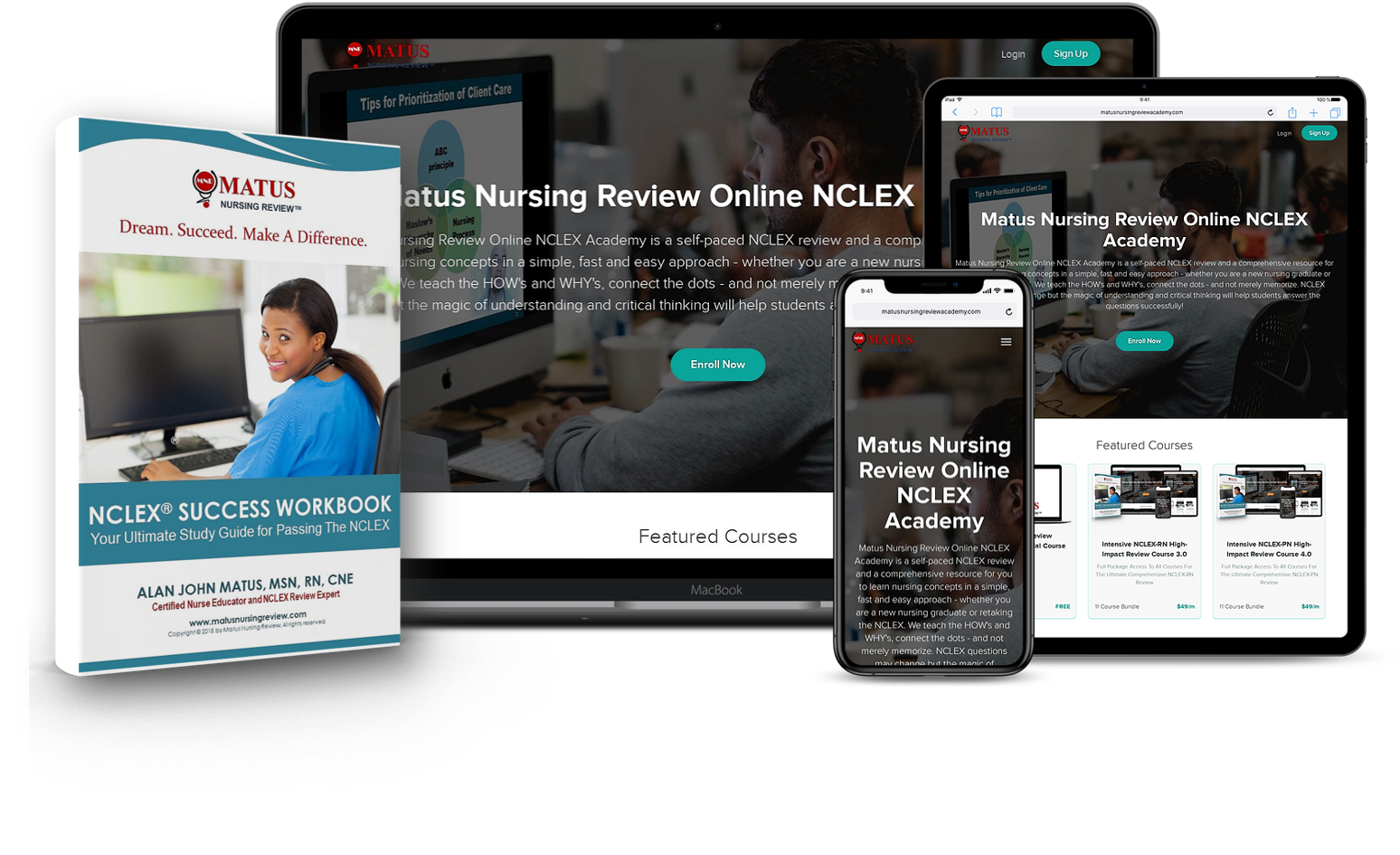 COURSE PACKAGE:

1. The NCLEX Success Workbook
2. Access to Online NCLEX Academy resources up to 6 months after last day of review
Interactive Core Content Review

High-Quality Lecture Videos

Highly Organized and Up-To-Date Test Plan-Based Curriculum

Study Plan Schedule

Hundreds of End-of-Lessons NCLEX Quizzes

Final NCLEX Predictor Assessment Exams

Non-downloadable lecture PDF slides

Video recordings on Prioritization and Delegation live review sessions

Facebook Discussion Group

eBook copy of "Simple, Fast and Easy NCLEX Review book (U.S. residents only)
COURSE TOPICS:
The NCLEX, Principles of Nursing Practice, Advanced Nursing Concepts, Fundamentals of Nursing Practice, Medical-Surgical Nursing, Maternity Nursing, Pediatric Nursing, Mental Health Nursing

Immune, Oncology, Sensory, Reproductive System and other minor topics will be self-study online assignments only.
COURSE DETAILS:
This course applies to students who are preparing for the NCLEX-PN and NCLEX-RN.

Desktop computer or laptop required. A tablet or phone may be used as a back-up.

You are required to show your face and use earphones during class for strict attendance monitoring.

Choose a location that is quiet and conducive to learning.

There is no guarantee that class sessions will be recorded due to unforeseen technical issues.
COVID-19 POLICY:
COVID-19 POLICY GUIDELINES: With the ongoing COVID-19 situation, please be reminded NOT to attend the live classroom when you recently tested positive for COVID or if you have COVID-related symptoms. You may attend virtually. Also, the class will be re-scheduled or conducted online in the occurrence of COVID outbreaks to follow infection control guidelines. Please always check your emails before class.
Your NCLEX Coach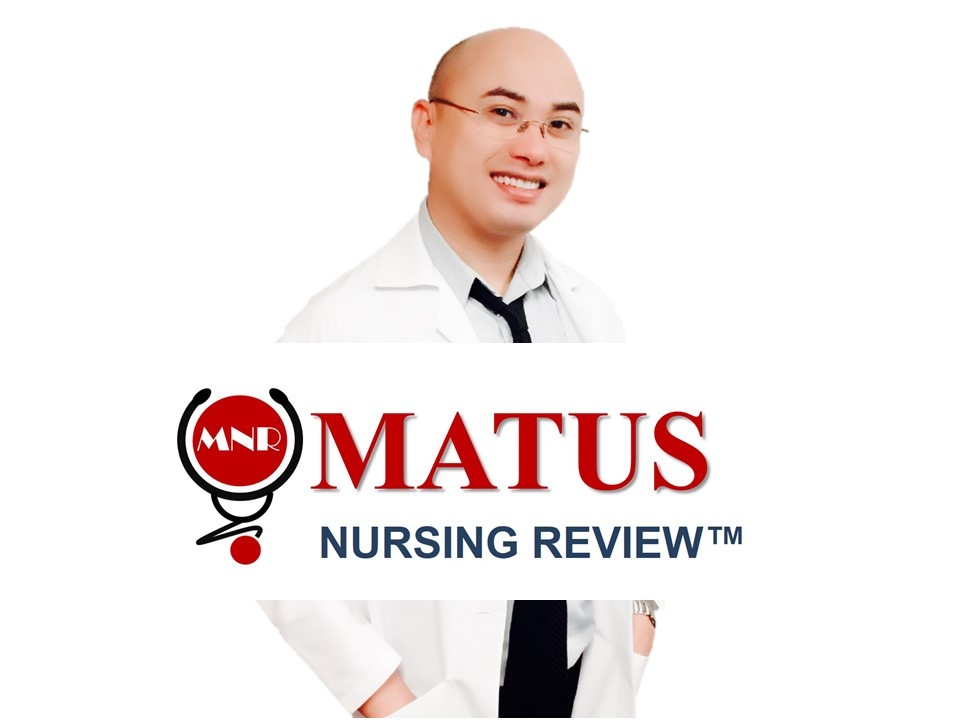 NURSE EDUCATOR. MENTOR. AUTHOR.

Alan John Matus is a seasoned Nurse Educator and NCLEX Instructor whose passion for NCLEX review spans over almost two decades. Before coming to the US, he taught review classes for the Philippine Nurse Licensure and CGFNS Exam. He graduated Magna Cum Laude for his Bachelor of Science in Nursing Degree and was ranked as 3rd Place Topnotcher for the Philippines Nurse Licensure Exam.
In 2011, he earned his Master of Science in Nursing - Nurse Educator Degree at California State University-Dominguez Hills with a perfect GPA of 4.0. He was also inducted to the Phi Kappa Phi Honor Society and The Honor Nursing Society, Sigma Theta Tau International. In 2016, he passed the Academic Nurse Educator Certification Exam by the National League for Nursing. As a Certified Nurse Educator, he serves as a leader and role model demonstrating his expertise in nursing education.
For several years, Mr. Matus also served as the nurse educator for a care coordination initiative of a large hospital system and his work with partner skilled nursing facilities has been cited in several journal articles. He is also an author who recently published the highly acclaimed review book, "Simple, Fast and Easy NCLEX Review". Currently, he serves as the Clinical Coordinator and a full-time Nursing Faculty in a nursing college in Los Angeles. With his professional experience, Mr. Matus brings a wealth of knowledge that will surely benefit many future nursing graduates. Click here to see testimonials!